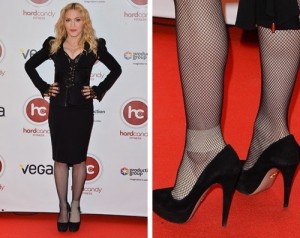 Madonna hosted her grand opening of her fitness club Hard Candy in Toronto. The 55-year-old singer toyed with photographers on the red carpet displaying her concealed ankle injury. She then made her way down into Yonge and Gerrard club's dance studio to teach a cardio class to 30 fans, according to CBC.
"Dance has always been a big part of my shows, my work," Madonna told The Canadian Press on Tuesday. "I started out as a dancer, so I can't imagine not having movement and dance and fitness being part of my work. It's just all interconnected."  After the workout, Madonna took to social media showcasing her nursing an injury. "Harder is Better! Post work out! Foot in the Ice Bath. A girl has to make a living!" she wrote.
As with any body part, it is important to take care of your feet. For more information, see podiatrist Dr. Jeff Wachtel of Wachtel Family Foot Care. Dr. Watchel can educate and instruct you on good foot hygiene and care.
Every Day Foot Care
Often, people take care of their bodies, face and hair more so than they do for their feet. But the feet are a very important aspect of our bodies, and one that we should pay more attention to. After all, without our feet, we would not be able to perform most daily tasks. It is best to check your feet regularly to make sure there are no new bruises or cuts that you may not have noticed before, for example.
For dry feet, moisturizer can easily be a remedy and can be applied as often as necessary to the affected areas. Wearing shoes that fit well can also help you maintain good foot health, as well as making it easier to walk and do daily activities without the stress or pain of ill-fitting shoes, high heels, or even flip flops.
For ways on how to maintain your feet healthy and clean, please read on more following link below.
If you have any questions, feel free to contact our office in Lansdale, PA. We offer the latest in diagnostic and treatment technologies for any foot and ankle complications you might have.
Read the Full Article on Everyday Foot Care.