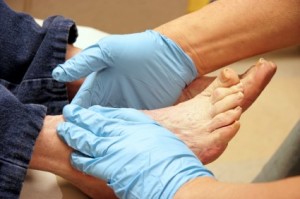 For those who are prone to running injuries or may have one, good news: there are several solutions for training and treating your injury. If you're someone who runs often, remember to stretch and warmup before your exercise, to prevent straining your muscles. Tight muscles that are not stretched can lead to injury. For those with injuries, physical therapists can perform a full evaluation on your condition and help identify the cause of your injury. Physical therapists can provide individualized programs that help train and strengthen your muscles. They can then work with you to prevent further injuries by training on your problem area.
Foot therapy is necessary for those recovering from both foot deformities and foot injuries. If you have concerns regarding therapy, consult with Dr. Jeff Wachtel, D.P.M., of Wachtel Family Foot Care. Dr. Wachtel will provide you with the foot- and ankle information you seek.
Most common injuries
People who are constantly on their feet are prone to a variety of injuries. Therefore, it is important to take part in physical therapy in order to get back on the right track quickly.
What to do when injured
Physical Therapy – This specialized treatment will focus on the affected area, speeding up recovery and the overall healing process. This is important for those wanting to get back into the game quickly. It is a proven method that has helped millions of people return from any injury.
During physical therapy you will undergo regimented training to get back into full form. Training is often very difficult, especially at first when the foot feels weak. These are some steps physical therapy often involves:
Basic stretching & twisting exercises – getting the feet's mobility and flexibility up.
Massaging – the therapist will massage the injured area in order to activate the muscles and relax them.
Strengthening Exercises – this allows the muscles in the affected area to regain their full strength, a vital step towards full recovery.
If you have any questions, please contact our office located in Lansdale, PA. We offer the newest diagnostic and treatment technologies for all your foot ankle injuries.