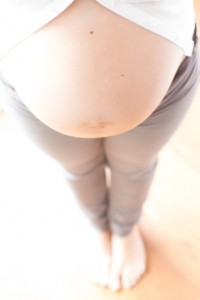 With her second child on the way, Kim Kardashian is reportedly unhappy that another pregnancy is causing her feet to swell. A source has shared that the Kardashian's feet had swollen so much; they could no longer fit into her favorite high heeled stilettos. "Kim can't fit into any of her favorite shoes," the source shared. "Her feet are swollen and hurt, and the last thing Kim wants to do is wear ugly, unflattering flats." Kim did, however, recently post a photo to Instagram of her feet wearing sneakers, claiming they were the most comfortable shoes in the world.
Pregnant women with swollen feet can be treated with a variety of different methods that are readily available. For more information about other cures for swollen feet during pregnancy, speak to podiatrist Dr. Jeff Wachtel, D.P.M., of Wachtel Family Foot Care. Dr. Wachtel will assist you with all of your foot and ankle concerns and answer any of your related questions.
What foot problems can arise during pregnancy?
One problem that can occur is over-pronation, which occurs when the arch of the foot flattens and tends to roll inward. This can cause pain and discomfort in your heels while you're walking or even just standing up, trying to support your baby.
Another problem is edema, or swelling in the extremities. This often affects the feet during pregnancy, but tends to occur in the later stages.
How can I keep my feet healthy during pregnancy?
Wearing orthotics can provide extra support for the feet and help distribute weight evenly
Minimize the amount of time spent walking barefoot
Wear shoes with good arch support
Wear shoes that allow for good circulation to the feet
Elevate feet if you experience swelling
Massage your feet
Get regular, light exercise, such as walking, to promote blood circulation to the feet
If you have any questions, please contact our office located in Lansdale, PA. We offer the newest diagnostic and treatment technologies for all your foot ankle injuries.