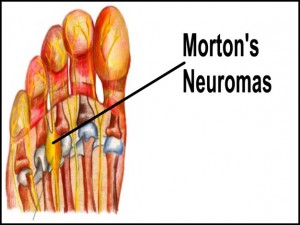 Despite a case of Morton's Neuroma, Breast Cancer Now leader Lynn Parfey participated in her first ever run at the recent Great North Run as a commitment to the dying words of her friend Shirley Garman. Parfey endured the excruciating pain in her feet to take on the 13.1 mile challenge in Garman's memory. "I'm not brave," shared Parfey. "The people that go through any form of cancer are the brave ones…. I'm not getting any younger and I just want to do something different to do what I can." Parfey has been involved with the charity since 2008.
Morton's neuroma can be a difficult condition to contend with. If you are experiencing symptoms of Morton's Neuroma, speak to Dr. Jeff Wachtel, D.P.M., of Wachtel Family Foot Care. Dr. Wachtel will can diagnose and treat your feet accordingly.
Morton's Neuroma
Morton's neuroma is a painful foot condition that commonly affects the areas between the third and fourth toe and the ball of the foot, although other areas of the foot are also susceptible to this condition. Morton's neuroma is caused by an inflamed nerve in the foot that is being squeezed and aggravated by surrounding bones. Women are more likely than men to have an occurrence of this foot condition.
What Increases the Chances of having Morton's Neuroma?
-Ill-fitting high heels or shoes that add pressure to the toe or foot area.
-Jogging, running and any sports that involve constant impact to the foot area.
-Flat feet, bunions, and any other foot deformity may put you at a higher risk for developing Morton's neuroma.
If you suspect that you may have this condition, you should visit your podiatrist. A podiatrist will first conduct a thorough physical examination to check for palpable masses between the bones of the foot.
If you have any questions, please contact our office located in Lansdale, PA. We offer the newest diagnostic and treatment technologies for all your foot ankle injuries.