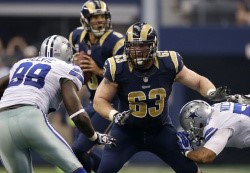 Scott Wells of the Rams will be missing the remainder of the football season after suffering a broken ankle. The veteran center sustained his injury during a game against the 49ers.
Coach Jeff Fisher reported that Wells fractured his left tibula, giving a prognosis of a four to six week recovery time. Prior to last year Wells proved to be a durable player and had only missed six games in his previous seven year athletic career but only participated in seven games last season.
Broken ankles are a common problem, especially in athletes. If you think your ankle is broken, see podiatrist Dr. Jeff Wachtel of Wachtel Family Foot Care. Dr. Wachtel can diagnose your problem and discuss with you the best options available for your ankle.
Broken Ankles
The ankle consists of three bones- the tibia, the fibula, and the talus. The tibia and the fibula are the two bones that connect to your knees. They sit directly above the talus bone, which is protected by a fibrous membrane and allows slight movement in the ankle joint. A break usually occurs in one of these bones after the foot is twisted too far, a strong impact like jumping from a great height, or repeated stresses like running.
Diagnosis
If you suffer an ankle injury, it is essential that you receive a correct diagnosis. One of the first signs that the ankle is broken is an inability to put any weight on it. There will often be severe bruising and swelling at the sight of the injury. Your doctor may also order an x-ray be taken to determine the exact location and extent of the injury.
Treatment
Without proper care, a broken ankle may not heal properly and could cause arthritis and instability later in life. Therefore, seeking proper treatment is essential to making a full recovery.
There a number of steps you can take to accelerate the healing process however. Elevating your feet above your head and icing the ankle can reduce pain and swelling. Your doctor may decide that surgery is the best option, meaning you will likely be in a cast for at least three months.
To learn more about Broken Ankles, follow the link below.
If you have any questions, feel free to contact our office in Lansdale, PA. We offer all the latest in diagnostic and treatment technologies to meet your needs.
Read more about Broken Ankles.