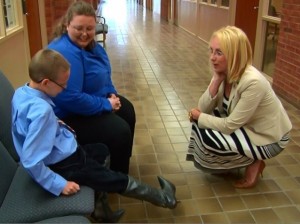 Joseph Miller, a nine-year-old boy from Findlay, OH, was a victim of domestic abuse while growing up. Now, he's out of the toxic environment he was raised in, and shows his support for others who suffer from abuse by participating in charity organization Open Arms' annual "Walk a Mile in Her Shoes" event.
During "Walk a Mile in Her Shoes," men and women are asked to show support for those who have been affected by domestic abuse by walking a mile in high heeled shoes. Joseph wore a pair of his mom's high heels to the office of Findlay mayor Lydia Mihalik to ask her for a donation to the cause. Mihalik was so floored by his dedication that she gave him $1000 for Open Arms and the annual charity walk.
High heels are known for causing a variety of foot and ankle maladies when worn too often. If you are experiencing foot pain that might be related to high heel usage, talk with podiatrist Dr. Jeff Wachtel, D.P.M., of Wachtel Family Foot Care. Dr. Wachtel can identify the source of your foot pain and teach you about the issues that come with wearing fashionable footwear.
Effects of High Heels on the Feet
High heels are popular shoes among women because they are associated with femininity. Despite their appeal, they can cause many health problems if worn too frequently.
What parts my body will be affected by high heels?
Ankle Joints
Achilles Tendon – may shorten and stiffen with prolonged wear
Balls of the Feet
Knees – heels cause the knees to bend constantly, creating stress on them
Back – they decrease the spine's ability to absorb shock, which may lead to back pain.       Also, the vertebrae of the lower back may compress.
What kinds of foot problems can develop from wearing high heels?
Corns
Calluses
Hammertoe
Bunions
Morton's Neuroma
Plantar Fasciitis
How can I still wear high heels and maintain foot health?
If you want to wear high heeled shoes, make sure that you are not wearing them every day, as this will help prevent long term physical problems. Try wearing thicker heels as opposed to stilettos to distribute weight more evenly across the feet.
For more information about the Effects of High Heels on the Feet, follow the link below.
If you have any questions, please contact our office in Lansdale, PA. We offer the newest diagnostic and treatment technologies for all your foot care needs.
Read more about the Effects of High Heels on the Feet.