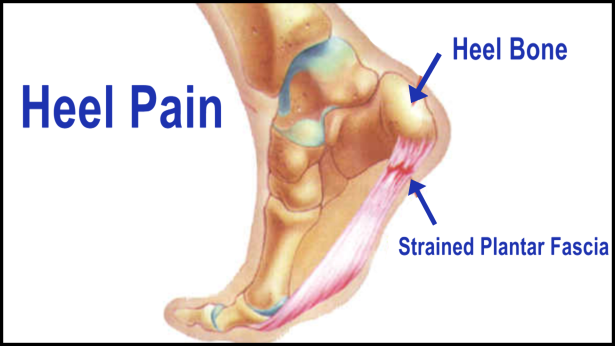 Many fashion-forward women are aware of the painful consequences that come with wearing high heels for extended periods of time. What women often forget, however, is that flat shoes—especially those with little to no foot support—can cause just as many foot problems as heels. 41-year-old teaching assistant Michele Crow learned this the hard way after being diagnosed with plantar fasciitis following a vacation in Portugal. Crow had worn a pair of wooden-soled flip-flops that left her with burning, stabbing pains. When the pain did not improve, a consultation with her doctor told Crow she had plantar fasciitis. "He said that wearing flat, unsupportive shoes, such as flip-flops and old trainers, had caused my arches to drop and the ligaments and tendons in the base of my foot to overstretch or tear," said Crow.
Plantar fasciitis is a painful condition. If you are experiencing heel pain, see one of our podiatrists of Watchel Family Foot Care. Our doctors will provide you with quality foot and ankle treatment.
What is Plantar Fasciitis?
Plantar fasciitis refers to heel and arch pain caused by an inflammation of the connective tissues on the bottom of the foot.
What Causes Plantar Fasciitis?
Ill-fitting shoes
Weight change
Excessive running
Non-supportive shoes
Overpronation
How Can It Be Treated?
Conservative measures – anti-inflammatories, ice packs, stretching exercises, physical therapy, orthotic devices.
Shockwave therapy – sends sound waves to the areas where pain is experience.  Requires multiple sessions.  This is used for very persistent cases of plantar fasciitis.
Ultrasound-guided technique with steroid injections into the plantar fascia.  This is from a relatively new and small study, but was shown to be effective in most cases treated.
New Studies on Treatment
According to groundbreaking treatment option studies, Luca M. Sconfienza, M.D. says that ultrasound with steroid injections was effective in over 95% of cases that involve plantar fasciitis. This process involves anesthesia and is a single process, out-patient treatment that was discovered to be highly effective. Luca M. Sconfienza M.D. presented her study at an annual meeting for the Radiological Society of North America (RSNA). Be sure to speak with your podiatrist about different methods that can be used, as well as finding out what treatment options they offer.
If you have any questions please feel free to contact our office, located in Lansdale, PA. We offer the latest in diagnostic and treatment technology to meet your needs.
Read more about Plantar Fasciitis