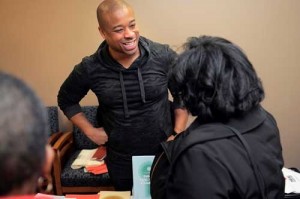 Mary Washington Hospital brought local citizens together and taught them about living with diabetes through a, "Diabetic You" event. 62-year-old Valerie Lewis, one of the participants, has had diabetes since she was young. She is now extremely dependent on medication. "Knowing you have diabetes and doing the right thing about it, is hard," Lewis said, "I've only recently been doing what I shoulda to a T."
Charles Mattocks, a chef who co-sponsored the event, is touring and promoting his healthy-eating book, "Eat Cheap but Eat Well." Mattocks himself has diabetes and hopes to help others by providing healthy recipes to keep it under control.
Diabetes can lead to nerve conditions and the amputation of the feet if not taken care of properly and carefully. For advice on how to maintain good foot health with diabetes, see a podiatrist like Dr. Jeffrey Wachtel of Wachtel Family Foot Care. Dr. Wachtel can teach you about how to check for problems and avoid further complications.
Diabetic Foot Care
Diabetes affects millions of people of all ages each year. Diabetes damages blood vessels in many parts of the body, including the feet. When damage occurs to nerves in the feet, they may be unable to send the proper signals to the peripheral nervous system, resulting in a condition known as neuropathy. Once a diabetic patient develops neuropathy, it is imperative that the feet are well taken care of to avoid possible amputation of the feet.
The Importance of Caring for Your Feet
– Regularly check your feet for bruises or sores.
– Wear socks that fit your feet; socks shouldn't be tight.
– Wear properly fitting shoes that are comfortable.
Patients with diabetes should have their doctor monitor their Hemoglobin A1C levels as this test lets the physician know how well the blood sugar levels have been controlled during the past 3 months. It is important to keep the blood sugar levels in a normal range (70-110mg/dl). It is advisable to visit a podiatrist if the diabetic patient is experiencing any conditions involving the feet.
It is always best to let your healthcare professional know of any concerns you may have regarding your feet.
If you have any questions, feel free to contact our office in Lansdale, PA. We offer the latest in diagnostic and treatment technologies to meet your foot and ankle needs.
Read more about Diabetic Foot Care.