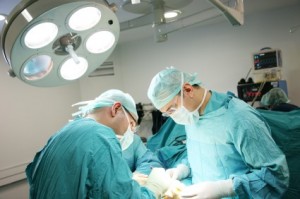 Well known surgeon and TV personality Dr. Mehmet Oz warns viewers that opting for bunion surgery may not be the best method in treating the condition.
"Today we are talking about a painful and often crippling condition that could affect more than half of you at some point in your life," says Dr. Oz. "Many of you will turn to surgery, but will surgery cause more problems than the bunions themselves?"
A prime example of surgery not best for bunion treatment features The Peoples Court judge Marilyn Millian. Judge Millian herself has contended with bunions and tried turning to surgery as a solution. "The aftermath is very, very, very, very painful and involves slow recovery," says Judge Milian. Dr. Oz says that Judge Millian's situation was not uncommon and in some cases recovery from bunion surgery can even take several months to a year.
Bunions are painful. If you have bunions, see podiatrist Dr. Jeff Wachtel of Wachtel Family Foot Care. Dr. Wachtel can treat your bunions as well as any other problems your feet and ankles have.
What is a Bunion?
A bunion is an enlargement of the base joint of the toe that connects to the foot. The enlargement is formed of swollen tissue or boney growth. This swelling is caused by a shifting of the bones in the big toe inward, impacting the other toes of the foot. The area around the base of the big toe may become inflamed, red, and/or painful.
Formation
Genetics – people who are susceptible to bunions are often genetically predisposed.
Stress on the feet – wearing improperly fitting shoes or running and walking with improper form may cause stress on the feet. Wearing high heeled shoes puts the weight from the body onto the toes, causing further stress and bone displacement.
Diagnosis
A podiatrist who specializes in foot structure and bio-mechanics will be able to diagnose bunions.
Blood Tests – testing the blood for gout or arthritic conditions can help identify the causes.
Radiological Exam – a podiatrist will request an exam to identify the bunion by taking a look at the bone structure. If the x-ray shows an enlargement of the joint near the base of the toe, shifting toward the smaller toes, this usually indicates a bunion.
Treatment  
Wearing a wider shoe can remove the pressure on the bunion and reduce pain. High heeled shoes should not be worn, as this forces the big toe inward toward the smaller toes. Avoiding these types of shoes will eliminate the pain associated with bunions, but if the pain continues, medication may be prescribed.
Orthotics or special foot soles may help the area by providing relief. But if these types of treatment do not work, surgery is required.
If you have any questions, feel free to contact our office in Lansdale, PA. We offer all the latest in diagnostic and treatment technologies to meet your needs.
Read more on Bunions.