The American Podiatric Medical Association (APMA) advises senior citizens to choose the right balance-boosting footwear to protect themselves from the risk of injuries. According to the Centers for Disease Control and Prevention, falls are among the leading causes of major injuries for elders. To guide the public, the association released a list of tips for choosing the right kind of shoes and emphasized how proper balance plays a huge role in safety.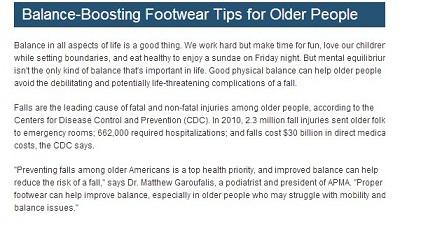 As posted on the APMA website:
"Preventing falls among older Americans is a top health priority, and improved balance can help reduce the risk of a fall," says Dr. Matthew Garoufalis, a podiatrist and president of APMA. "Proper footwear can help improve balance, especially in older people who may struggle with mobility and balance issues."
Covering six important considerations, the list first recommends putting shoes through a three-step test to verify whether they are durable. Seniors should check to see that the heel can support their weight, the toe area allows their feet to breathe, and the product does not twist in the middle. They should also get a professional measure, since size may change over factors such as time and health.
Where comfort is concerned, the association suggests bringing socks that seniors will most likely be wearing with the shoes when they shop, so they can get a feel for how the two will go together. If they are not fully satisfied with their initial experience, looking for another pair is recommended.
For those experiencing foot problems, APMA suggests talking to a podiatrist in Lansdale or in the nearest locale. Under the guidance of a trained medical professional, seniors will be able to have an idea of which type of footwear will best suit their needs, and subsequently use it as needed. Trusted practices such as Wachtel Family Foot Care can also make sure that elders are informed of which manufacturers are known for designing shoes that will help attain physical balance more effectively and boost foot health, as touted by the association. The article further stated to check if the brand and style of footwear has the APMA Seal of Acceptance.
Following these tips will help seniors and their families get the peace of mind that comes with proactively ensuring better health and safety. When they enlist the assistance of a reliable foot doctor in Lansdale, like the one at Wachtel Family Foot Care, they can further step up these advantages.
(Article Excerpt and Image from Balance-Boosting Footwear Tips for Older People, www.APMA.org)