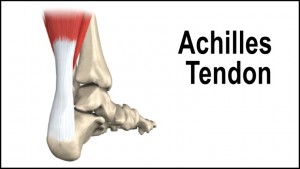 World Cup alpine ski racer Askel Lund Svindal has recently bounced back after injuring his Achilles tendon. His successful recovery and return have left the skier in high spirits: "I enjoy the process and that's a sign I could do this for a while. As long as I'm healthy and able to be fast and have good friends–some of my teammates are my best friends–there's no reason not to do this." Since his World Cup debut in 2001, Svindal has scored eleven medals at major championships; three of those a respective gold, silver, and bronze at the Vancouver Olympics.
Achilles tendon injuries can be very painful. If you believe you are having problems with your Achilles tendon, consult with Dr. Jeff Wachtel, D.P.M., of Wachtel Family Foot Care. Dr. Wachtel can treat your foot and ankle needs.
What is the Achilles Tendon?
The Achilles tendon is a tendon that connects the lower leg muscles and calf to the heel bone of the foot. It is the strongest tendon in the human body and is essential for making movement possible. Because this tendon is such an integral part of the body, any injuries to it can cause severe difficulties and should immediately be presented to a doctor.
What are the symptoms of an Achilles Tendon Injury?
There are various types of injuries that can affect the Achilles tendon. The two most common are Achilles tendinitis and ruptures of the tendon.
Achilles Tendinitis Symptoms
– Inflammation
– Dull to Severe Pain
– Increased blood flow to the tendon
– Thickening of the tendon
Rupture Symptoms
– Extreme pain and swelling in the foot
– Snapping sensation
– Total immobility
Treatment and Prevention
Achilles tendon injuries are diagnosed by a thorough physical evaluation, which can include an MRI. Treatment involves rest, physical therapy, and in some cases, surgery. However, various preventative measures can be taken to avoid these injuries, such as:
– Thorough stretching of the tendon before and after exercise
– Strengthening exercises like calf raises, squats, leg curls, leg extensions, leg raises, lunges, and leg presses
If unable to immediately see your podiatrist, remember to Rest, Ice, Compress, and Elevate until then.
If you have any questions, please contact our office located in Lansdale, PA. We offer the newest diagnostic and treatment technologies for all your foot ankle injuries.