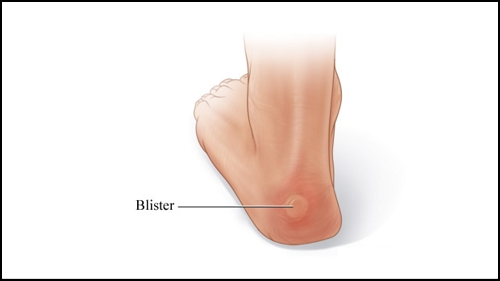 Virgin Atlantic has entrusted British designer Vivienne Westwood with the task of designing its flight attendants' uniforms and is the latest in airline-designer collaborations, which in the past have included Christian Lacroix for Air France and Pierre Balmain for Singapore Airlines. The collaboration is not proving to be as successful, however, as reports from some of Virgin's 7,500 crew members are showing that the designer's shoes are causing blisters. The uniform's footwear is an adaptation of Westwood's signature hourglass heels. While global wearer trials of the uniform produced no issues, a Virgin Atlantic spokesperson stated that the company is working to ensure its employees are "happy and comfortable in their working environment."
Blisters are more likely to occur especially if you work in an environment that always has you on your feet. If you are suffering from a painful blister, see Dr. Jeff Wachtel, D.P.M., of Wachtel Family Foot Care. Dr. Wachtel will attend to all of your foot and ankle needs and provide you with quality treatment.

Blisters on the Feet

When tight or ill-fitting footwear is worn, many times a foot blister may develop. Blisters can even develop by constant rubbing from the shoe, often times leading to pain.

What is a Foot Blister?

A foot blister is a small pocket that is filled with fluid, forming on the upper most layer of the skin. Blisters are filled with clear fluid, and may lead to drainage of blood or pus if the area has become infected.

How do they Form?

Blisters of the feet are almost always the result of shoe rubbing and constant friction of the skin and material. Long periods of walking in shoes, sandals, or boots which don't fit properly can result in a blister. Those who often have moisture or humidity in the feet, are prone to blister formation easily.

Prevention & Treatment

Proper care is vital to alleviate pain and prevent infection to the affected area of the foot. The best treatment is to leave them alone. New skin will develop under the blister and during the healing stages, your blister will pop.
For more information about Blisters on the Feet, follow the link below.
If you have any questions please feel free to contact our office, located in Lansdale, PA. We offer the newest diagnostic and treatment technologies for all your foot and ankle needs.
Read more about Blisters on the Feet