Walking barefoot on the beach is good for your soul, but did you know that it's also good for your soles? Let's explore the pleasures of walking on sand, which feels so good that it's almost like walking on clouds.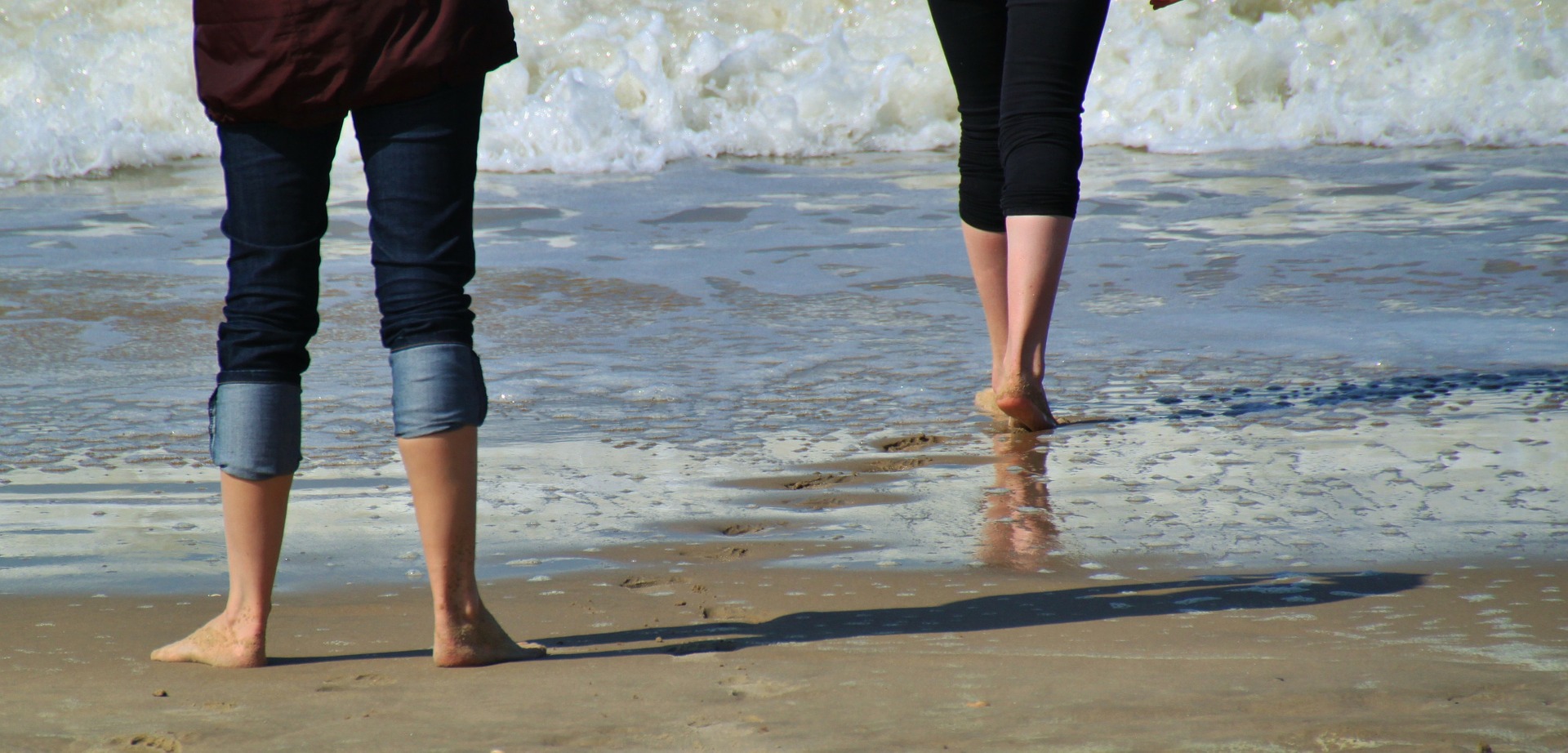 The benefits of strolling in the sand this summer
Toned muscles. Walking on sand forces the tendons and muscles in your feet and ankles to work harder. This allows them to stretch with every step, leading to greater flexibility and strength. Why is that good? Because strong, flexible ligaments will help prevent problems like tendonitis, plantar fasciitis and other forms of foot pain. Also, that extra toning will make your legs look lean and firm.
Nature's pedicure. If you're used to using a pumice stone or a foot file to tackle your calluses, now you can let Mother Nature do the work for you. Sand is a natural exfoliant, so walking barefoot in the sand will scrape those corns and calluses off your feet and wash them away. Soaking your feet in salt water also helps loosen the rough, dry skin that leads to callus buildup. It's a natural pedicure and it's free to boot!
Big calorie burn. You'll torch more calories walking on the sand, and there are 2 reasons for this. First, it's harder to walk on sand than it is to walk on flat ground, so you'll get a boost just from that. Also, people who walk on the beach tend to walk longer distances than they do when they're on dry land simply because it's more enjoyable.Strolling in the sand is an enjoyable, relaxing way to get a great workout.
Better balance. Walking on sand is a prime example of what podiatrists call proprioception. The term refers to times when our body is forced to learn how to walk on unfamiliar terrain.It's one of the benefits of walking in a natural environment like grass or over an uneven surface like an unpaved road. Proprioception is especially important to anyone who has suffered a foot or ankle injury, because it is helpful to rehabilitation.
Dream beaches: the best places to take that sandy stroll
If you're planning a beach vacation, pick a place that offers lots of opportunities for strolling through the sandy clouds. Here are some suggestions.
Kiawah Island Beachwalker Park, South Carolina
With a name like that, it has a heaven for beach walking. Kiawah is a barrier island and you'll find more than 10 miles of pristine beach to walk along. The beach offers parking and is a short drive from all the charm and history of Charleston.
Siesta Beach, Sarasota, Florida: Florida is famous for its soft, white sand beaches, and Siesta Beach is regarded as having some of the softest, cleanest sand in the state. It also boasts a wide, crescent-shaped beachfront and calm waters.
Harbour Island, Bahamas: A pink sand beach? No kidding – this is where you'll find it! On this quiet beachfront you can enjoy 3 miles of sparkling pink sand and warm water. Harbour Island is regularly rated as one of the top island beaches in the world for good reason.
Kailua Beach, Oahu, Hawaii: You'll walk on soft sand shaded by coconut trees and cooled by gentle breezes. Kailua Beach is one of the longest, flattest and most beautiful beaches in Hawaii.
A few tips as you head for the beach
Your fun in the sun should be pure pleasure. As with any exercise or outdoor exposure, use common sense and don't overdo your barefoot beach walking.
Don't overexert yourself, especially if you're not a regular walker.
Rinse the salt and sand from your skin when your beach day is done.
Always use moisturizer after being out in the sun, salt and wind.
Have fun! And let us know how we can help keep your feet healthy this summer
We hope you'll enjoy your stroll on the beach! But if you aren't sure you're ready for your trip – perhaps due to foot pain, calluses, corns or other issues – we are ready to help you.
As a seasoned podiatrist with many successful years in practice, Dr. Wachtel serves hundreds of patients near Lansdale, Pennsylvania. He is happy to consult with you whenever you're experiencing pain, discomfort or changes in foot function. Call Dr. Wachtel's office today to schedule a personalized consultation.
Source