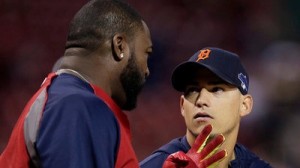 Detroit Tigers shortstop Jose Iglesias will have to miss at least four to six months' worth of games to recover from stress fractures in both of his legs. The Tigers' manager, Dave Dombrowski, indicated that he doesn't think it's likely that Iglesias will be able to play at all this season, although he sees no reason why he won't be back next year.
In the meantime the shortstop will take part in special training to help keep him in shape, as well as undergo several tests to determine where the fractures came from. "This is a very rare situation for somebody at any age, but particularly a young individual," Dombrowski said.
Stress fractures in the feet and ankles can be very painful injuries to contend with. If you think you might have a stress fracture, consider visiting a podiatrist like Dr. Jeffrey Wachtel of Wachtel Family Foot Care. Dr. Wachtel will diagnose your condition and guide you through the recovery process.
Dealing with Stress Fractures of the Foot and Ankle
The Stress Fractures occur on the foot and ankle when muscles in these areas weaken from too much or too little use.  Then the feet and ankles lose support when walking or running from the impact of the ground. Since there is no protection the bones receive the full impact of each step. The stress on the feet causes cracks to form in the bones, thus called stress fractures.
What are Stress Fractures?
Stress fractures occur frequently in individuals whose daily activities cause great impact on the feet and ankles. Stress factors are most common among:
-runners
-people affected with Osteoporosis
-play tennis or basketball
-gymnastics
-high impact workouts
Symptoms
Pain from the fractures occur in the area of the fractures, and can be constant or intermittent. It will often cause sharp or dull pain with swelling and tenderness. Engaging in any kind of activity which involves in high impact will aggravate pain.
Treatment
The individual and the degree of injury depend on the fracture of the foot. Some fractures heal very fast while others take a long times and one would need crutches.
For more information about Stress Fractures of the Foot and Ankle, follow the link below.
If you have any questions, please contact one of our offices in Lansdale, PA. We offer the newest diagnostic and treatment technologies for all your foot care needs.
Read more about Stress Fractures of the Foot and Ankle.