Having a professional pedicure can be a refreshing treat. But you don't need to head to the salon to give your feet a little TLC. Here are expert tips for a healthful pedicure you can give yourself at home.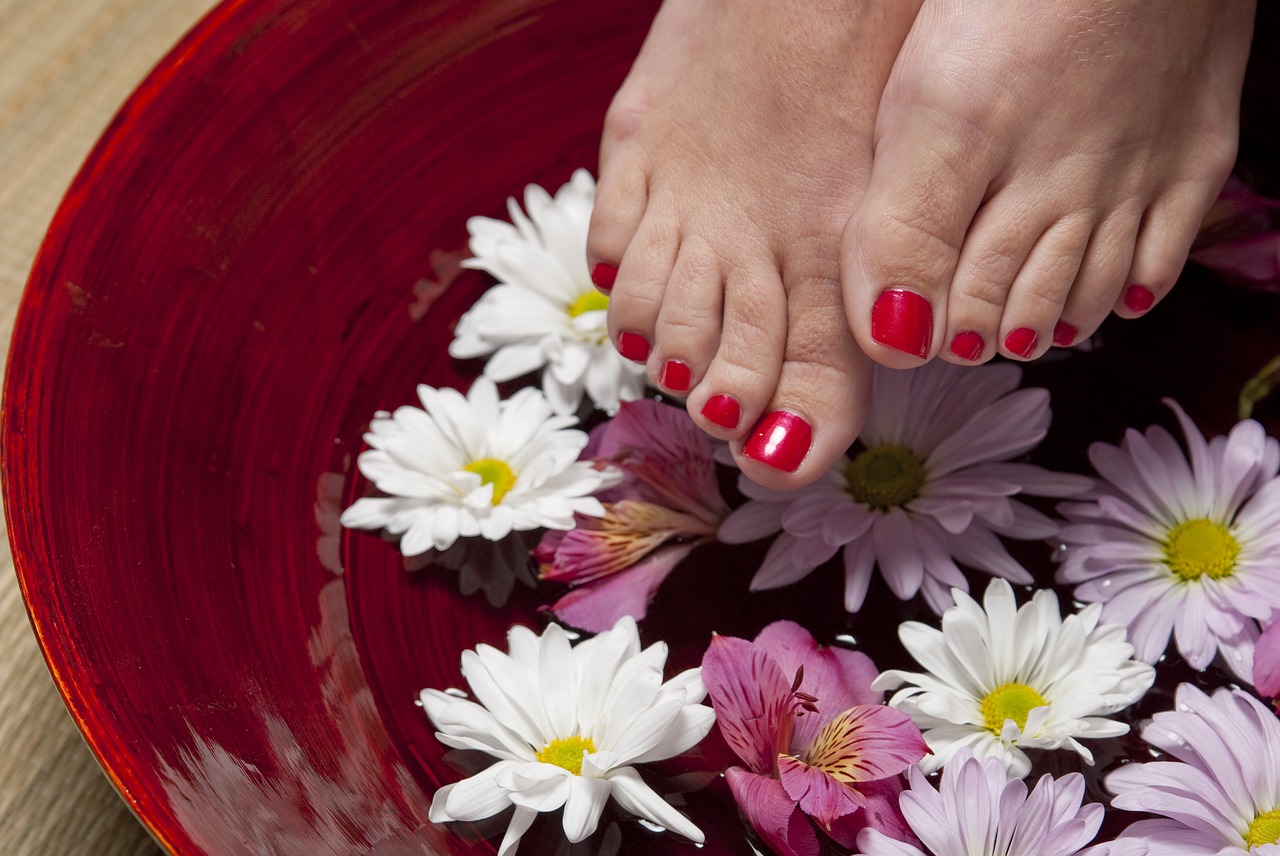 MIX UP A SOFTENING SOAK
First, remove any old polish from toenails using a gentle, non-acetone polish remover. Then fill a shallow container with warm water and add a salt-based foot soak. There are many brands on the market that feature pleasing, plant-based scents, or you can use old-school Epsom salts, available at any pharmacy. Keep feet submerged for 10 minutes. The salt helps soften skin and cuticles.
CUT AND FILE
Use a clean toenail clipper to trim nails straight across. Tips should be even with the top of your toes, leaving just a hint of white moon. This helps prevent ingrown toenails and other issues that can arise when nails are cut too short. After clipping, use an emery board or metal file to smooth the cut edges and round the outer corners of each nail.
REMOVE ROUGH SKIN
Use a pumice stone to gently buff away roughened skin and calluses from heels, the balls of your feet and the outer edges of toes. Finish the job with an exfoliating scrub. Many of these are made with sugar, a natural abrasive, along with enriching ingredients such as coconut or olive oil. Rinse thoroughly with warm water.
ADD EXTRA MOISTURE
Lock in moisture by massaging feet with a rich foot cream. Formulations with Shea butter will add an extra measure of moisture and protection for feet. Many foot creams also contain peppermint to keep feet feeling fresh.
BUFF OR POLISH FOR A BRILLIANT FINISH
If you prefer a natural look, complete your pedicure by giving nails a quick buff with a chamois buffer. If you love the sparkle of nail polish, be sure to choose formaldehyde-free formulas that are healthier for your nails.
QUESTIONS ABOUT FOOT PAIN AND OTHER ISSUES?  ASK DR. WACHTEL
Beautiful, healthy feet make you feel great about yourself – and they're a crucial part of any active, healthy lifestyle. Don't let foot pain and other issues get in the way.
When it comes to caring for foot issues, Dr. Jeffrey Wachtel is your best resource. A seasoned podiatrist serving thousands of patients throughout the Lansdale, Pennsylvania area, Dr. Wachtel can answer your questions and make sure that potential problems are treated early.
Call our Lansdale office anytime to schedule a convenient appointment.
Source