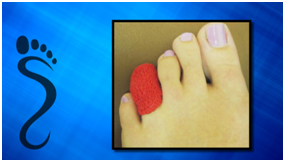 In a recent study physicists of the University of Nottingham in England took a closer look at the mechanical forces that act on fingernails and toenails—particularly the outward growth of the nail. Researchers have found that ingrown toenails form because of an imbalance in the forces acting on them from nail growth. Nails that grow too quickly tend to have a nail edge that becomes more curved, which in turn makes it more likely for the far edges of the nail to poke down into the skin beside the nail—creating an ingrown nail. To combat ingrown nails, cut nails into a parabolic or oval shape rather than straight across at the end of the nail. Using this method will cause the forces acting on the nail and nail bed to balance, preventing the growth of ingrown nails.
Ingrown toenails can become painful if they are left unattended. To learn more, consult with podiatrist Dr. Jeff Wachtel, D.P.M., of Wachtel Family Foot Care. Dr. Wachtel will provide you with quality foot and ankle treatment.
Ingrown Toenails Causes
Ingrown toenails occur when a toenail grows sideways into the bed of the nail, causing pain, swelling, and possibly infection.
There are a number of risk factors for ingrown toenails. Some include cutting your nails too short, participating in strenuous sports, diabetes, obesity, and fungal infection. Some are genetically predisposed to ingrown nails, although wearing ill-fitting or damp shoes can exacerbate the problem.
Treatment
There are a number of steps you can take to treat ingrown nails:
-Let your toenails grow out
-Soak the toes in hot water with antibiotic soap or Epsom salts
-Placing a piece of cotton under the affected nail may allow the toe to grow up instead of into the nail bed
-Rest with your feet up
If however, your pain is severe, or you see red streaks running up your leg, you should see a podiatrist. Your podiatrist may make a small incision and remove part of the toe nail to relieve the pressure. A local anesthetic may be used to lessen the discomfort of the operation.  Topical medication may also be prescribed to prevent the regrowth of the problem nail.
If you have any questions, please contact our office located in Lansdale, PA. We offer the newest diagnostic and treatment technologies for all your foot ankle injuries.
Read more about Ingrown Toenails