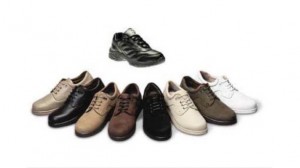 The company of shoe retailer Stuart Weitzman makes shoes that go up to a size 12. Weitzman has reported that, in the past, the average shoe size of the company was a size 7. Recently, however, size 8 has become the new average. As shoe sizes become larger and larger, so does the demand for bigger shoes.
Experts state that the average shoe size has increased two sizes since the 1970s. With this fast growth in shoe size, shoppers looking for new shoes should take heed and measure their shoe size in store. The best fit will not always be provided by selecting the same shoe size for every pair of shoes. The best fit can also be determined if shoes are tried on later in the day, as it is during this time that your feet are biggest.
Choosing the right shoe size is important in optimizing the health of your feet. For more information, consult with podiatrist Dr. Jeff Wachtel, D.P.M., of Wachtel Family Foot Care. Dr. Wachtel will assist you with all of your foot and ankle concerns.
Getting the Right Shoe Size
Sometimes it may be difficult finding the right shoe size especially because shoe sizes tend to vary depending on the brand and company you are looking for. A size 6 for one brand may be a size 7 in another. Although many people know their exact shoe size, it can range within 2 sizes depending on where they shop.
So it is important not to always go for a size 7 just because you think you might be a size 7 universally. It is best to try on the shoe and walk around for a bit to see how it fits and how it feels. Comfort is essential and the fitting has to be well otherwise it can lead to blisters, bruises at the back of the ankle and it can also hurt your toes if the shoe is too tight for example.
People walk a lot, so it is important for you to find what is comfortable when it is possible.
For more information about Getting the Right Shoe Size, follow the link below.
If you have any questions, please feel free to contact our office, located in Lansdale, PA. We offer the newest diagnostic and treatment technologies for all of your foot ankle injuries.
Read more about Getting the Right Shoe Size