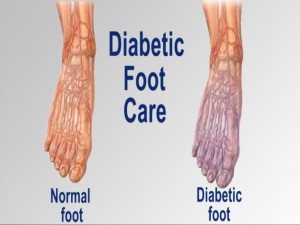 Researchers at the University of Arizona have designed a wearable type pf medical equipment called "Smart Socks" that are meant to help doctors prevent the formation of foot ulcers in people with diabetic neuropathy. The finished product is still a few years away, but its inventors hope that medical professionals will eventually be able to use it to reduce the high amounts of amputations in the diabetic community.
Smart Socks are outfitted with special sensors that show when and where pressure is being placed on the foot. Doctors can then use this data to pinpoint the location of trouble spots for ulcers and wounds, allowing them to treat them before they form or get worse.
When dealing with a systemic disease of the feet like diabetes, early medical treatment is imperative. If you have diabetes or any other systemic disease, meet with podiatrist Dr. Jeff Wachtel, D.P.M., of Wachtel Family Foot Care. Dr. Wachtel will recommend a comprehensive care plan for you based on the severity of your condition.
Systemic Diseases of the Feet
Systemic diseases affect the whole body, and symptoms usually are displayed in the feet. This condition can make a patient's ability to walk unbearable. Systemic diseases include: gout, diabetes mellitus, neurological disorders, and arthritis.
Gout – is caused by an excess of uric acid in the body. Some common symptoms include pain, inflammation, and redness at the metatarsal/phalangeal joint of the base big toe. Gout can be treated by NSAIDs, which relieves pain and inflammation and other drugs which lowers the acid levels in the body.
Diabetes mellitus- is an increase in the level of blood sugar in which the body cannot counteract with the insulin in the body. When the body doesn't produce enough insulin this is a factor in Diabetes.
Diabetes of the Feet
●Diabetic Neuropathy – may lead to damaged nerves and affect the feet through numbness and loss of sensation.
●Peripheral Vascular Disease- can restrict the blood flow to the feet, and often times lead to amputation of the feet.
If you have any questions feel free to contact our office, located in Lansdale, PA. We offer the latest in diagnostic and treatment technology to meet your needs.
Read more about Systemic Diseases of the Feet