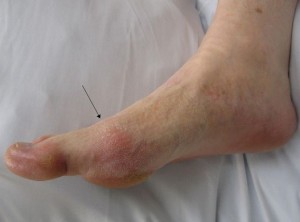 A study conducted by Dr. Tuhina Neogi and colleagues at the Boston University School of Medicine revealed that excessive humidity and warm temperatures might increase the likelihood that people who have gout will experience flare-ups of their condition. The researchers collected data using an online survey of 619 individuals with gout diagnosed by their doctors. The participants ranged in age from 21 to 88 years old.
What the scientists discovered was that temperatures in the 70°-79° range made gout sufferers about 43% more likely to get flare ups, while temperatures above 80° F made gout attacks 40% more likely. Meanwhile, temperatures less than 30° F resulted in a 40% decreased risk of getting a flare-up. These results were compared the probability of gout flare-ups occurring in the  50°-59° F range.
Gout is always painful, no matter what the temperature is. If you have gout in your feet, consider speaking with podiatrist Dr. Jeff Wachtel, D.P.M., of Wachtel Family Foot Care. Dr. Wachtel can work with you to alleviate your symptoms and give you advice about how to prevent flare-ups from occurring.
What is gout?
Diseases of the feet can affect the whole body, and symptoms usually arise within the feet. A condition like gout can make a patient's ability to walk unbearable.  The pain caused by this disease is often so agonizing that it requires elevation of the feet and some time off for them to fully recover.
Known in the past as "the disease of kings", Gout is caused by an excess of uric acid in the body. Some common symptoms include pain, inflammation, and redness at the metatarsal/phalangeal joint of the base big toe. This buildup of acid is typically seen on the big toe of the foot and can cause inflammation, redness and swelling. Although these are common symptoms of the diseases others include joint pain, extreme fatigue and a high fever.
Gout can be treated by NSAIDs, which relieves pain and inflammation and other drugs which lowers the acid levels in the body.
For more information about Gout, please follow the link below.
If you have any questions, please feel free to contact our office, located in Lansdale, PA. We offer the newest diagnostic and treatment technologies for all of your foot ankle injuries.
Read more about Gout