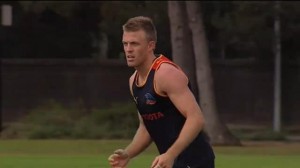 Nathan van Berlo, captain of the Adelaide Crows, was cut in the heel by a weighted training sled at a team practice, causing his Achilles tendon to rupture. He'll most likely have to miss the rest of the season. The exact circumstances of the incident, such as whether the training sled was being pulled by van Berlo or another player, are still unclear, and an internal investigation is currently underway.
Sleds are strength-building equipment used commonly by rugby players and olympians, and incidents where athletes hurt themselves using them are very rare. "We're not entirely sure exactly what happened and the club is still looking into that, but suffice to say it was during a warm up," said club doctor Andrew Potter.
Achilles tendon injuries often require a lot of professional care to recover from. If you have hurt your Achilles, consider talking to a podiatrist like Dr. Jeff Wachtel of Wachtel Family Foot Care. Dr. Watchel can look over your injury and suggest viable treatment options.
What is the Achilles Tendon?
The Achilles tendon is a tendon that connects the lower leg muscles and calf to the heel of the foot. It is the strongest tendon in the human body, and is essential for making movement possible. Because this tendon is such an integral part of the body, any injuries to it can cause severe difficulties and should immediately be presented to a doctor.
What are the symptoms of an Achilles Tendon Injury?
There are various types of injuries that can affect the Achilles tendon. The two most common are Achilles tendinitis and ruptures of the tendon.
Achilles Tendinitis Symptoms
– Inflammation
– Dull to Severe Pain
– Increased blood flow to the tendon
– Thickening of the tendon
Rupture Symptoms
– Extreme pain and swelling in the foot
– Total immobility
Treatment and Prevention
Achilles tendon injuries are diagnosed by a thorough physical evaluation. Often the doctor will order an MRI to confirm the diagnosis. Treatment will involve rest, physical therapy, and in some cases, surgery. However, various preventative measures can be taken to avoid these injuries.
For more information about Achilles Tendon Injuries, follow the link below.
If you have any questions, feel free to contact our office in Lansdale, PA. We offer the latest in diagnostic and treatment technologies for any foot and ankle complications you might have.
Read more about Achilles Tendon Injuries.