When the weather's warm, our feet often feel sweaty and unpleasant. To keep your feet in tip-top shape this season, try the old-fashioned method of a refreshing soak.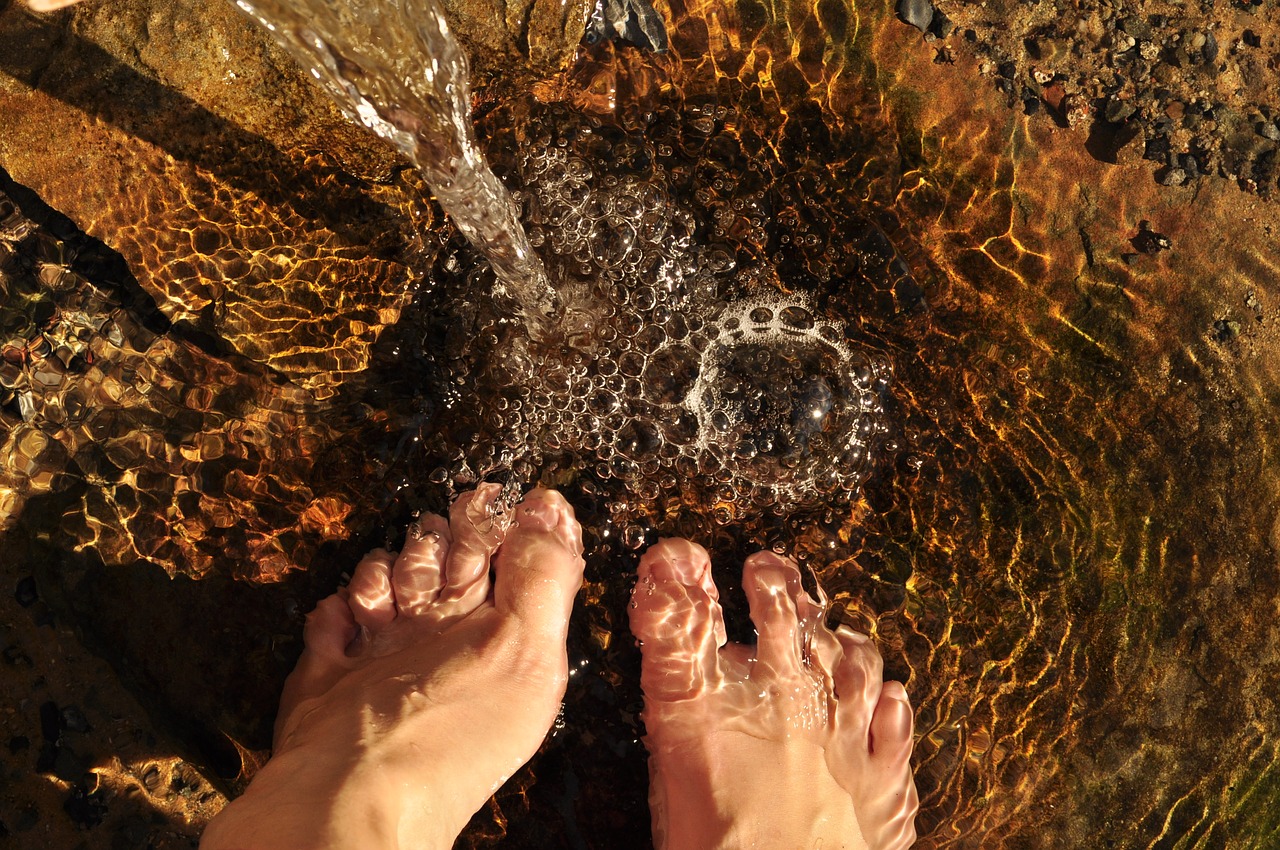 Here are some facts about foot freshness, along with 5 recipes for foot soaks to enjoy this summer.
What's inside those smelly sneakers?
Despite what you may think, perspiration isn't what makes our feet smell. Most sweat is odorless, but when feet become moist– especially inside a closed environment like regular shoes or sneakers – the bacteria that cause foot odor will thrive.
The bacteria on our feet give off a kind of gas, which is the real source of foot odor. Keeping feet dry, clean and preventing bacterial growth is the key to keeping feet fresh.
These 5 foot soaks can be made with everyday ingredients found in your home. Try them out to see which you enjoy most.
Epsom Salt Foot Soak
Epsom salt neutralizes odor, and as a bonus, it's very soothing for tired, aching feet.
You will need:
1/2 cup Epsom salt
8 cups warm water
A foot basin or shallow container
 Dissolve the Epsom salt in the warm water and soak your feet for 30 minutes once or twice daily. Dry thoroughly afterwards.
Sage and Rosemary Foot Soak
Sage has antibacterial, antiviral, and antifungal properties. Rosemary is also antibacterial and antifungal. You may find the garden-fresh scent of the ingredients in this herbal soak very pleasing and relaxing.
You will need:
1 teaspoon dried rosemary
1 to 2 teaspoons dried sage
A foot basin or shallow container
Fill the foot basin with boiling water and add the herbs. Let them steep until the water is cool enough to put your feet in, but still warm. Soak for 30 minutes once or twice daily, drying thoroughly afterward.
Baking Soda and Citrus Soak
Baking soda has too many uses to list here — but when it comes to keeping feet fresh it can be a true miracle worker. It naturally helps control odor and softens your feet, too. Lemon is an astringent, which will help reduce sweating, plus it has a wonderfully lively scent.
You will need:
¼ cup baking soda
8 cups very warm water
Juice of one lemon
A foot basin or shallow container
Place the baking soda in the foot basin, then cover with approximately 8 cups of toasty (but not hot) water. Squeeze in the juice of one lemon, sink your feet in, and swirl the ingredients. Soak for 15-20 minutes or so, then dry completely.
Vinegar Soak
Vinegar might not seem like the most obvious cure for smelly feet, but it actually freshens feet very effectively. Vinegar creates an acidic environment that bacteria have a hard time thriving in, reducing the bacteria count and controlling foot odor.
You will need:
1/2 cup distilled white or apple cider vinegar
5-8 cups warm water
Foot basin or shallow container
Fill your foot basin with 5-8 cups of warm water and add ½ cup of white distilled or apple cider vinegar. Submerge your feet, swirling the mixture around, and soak for 15 minutes twice a day. Rinse in cold water and dry thoroughly.
Black Tea Foot Soak
Common folklore tells of soaking feet in black tea to remove foot odor, thought to be effective because of the tannins in the tea. The acid creates an unfriendly environment for bacteria, while acting as an astringent which contracts pores and therefore closes sweat glands. It's hard to find scientific evidence of this, but the black tea soak may be worth a try.
You will need:
5 bags black tea, any brand
4 cups hot water
Small foot basin or shallow container
Pour very hot or boiling water into your foot basin then add the tea bags. Allow them to steep for 10 minutes, and then soak your feet for 20 minutes. Do this once a day, drying your feet thoroughly afterwards.
Have questions about foot pain and general foot care?
Dr. Jeffrey Wachtel is happy to answer all your questions about foot health. As an expert podiatrist serving thousands in the Lansdale area, Dr. Wachtel has helped men, women and kids overcome foot pain and other issues that can compromise our ability to move and stay healthy.
If you're worried about any aspect of your feet, give Dr. Wachtel a call today.
Source