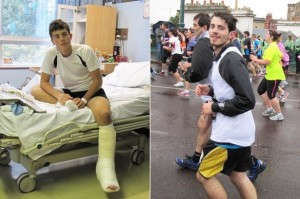 Joshua Battram Nearly Loses Foot, Still Completes Great North Run
Boston Lincs-native, Joshua Battram, had his left heel sliced in two and almost lost his foot during a sailing accident.
The 19-year old spent the rest of his recovery period attempting to complete a miracle; complete the Great North Run. After considering amputation, doctors salvaged his foot, requiring two surgeries, a skin graft, and metal screw insertion—on top of spending eight months of rehabilitation in a wheelchair before the young man could even walk again.
But Battram did complete the Great North Run as he vowed. He had this to say, "I'd always enjoyed sport[s] and didn't know whether I'd be able to do anything anymore. Running seemed a distant dream."
Battram understood the importance of the rehabilitation process; if you or someone you know has had a recent injury that requires rehabilitation, consult a podiatrist like Dr. Jeffrey Wachtel of Wachtel Family Foot Care. Dr. Wachtel will be able to fully map out the required process for rehabilitation and answer your questions.
Foot Rehabilitation for Athletes
Injured athletes are always looking for better, faster ways to aid their recovery and get back to the sport they love. To do this, podiatrists and physical therapists are often consulted so the injured athlete can get back onto the field as soon as possible. But rehabbing an injury is just as serious as the injury itself, and going through the motions of physical therapy or rehabilitation is a necessary process to keeping that injury at bay.
Physical Therapy Gives Hope
Physical therapy helps to keep athletes as active as they are physically capable, which will get them ready to return to the field once their feet become healed. Physical therapy often gives hope to athletes. However in cases where the injury is very serious, the athlete may never be able to return to the game; but this does not mean it is the end of the road, as there is always hope to get better. It is best to seek out rehabilitation as soon as possible so there are better chances for a full recovery, no matter how severe or minor the injury is.
If you have any questions, please contact one of our offices in Lansdale, PA. We offer the newest diagnostic and treatment technologies for all your foot care needs.
Read more about Foot Rehabilitation.