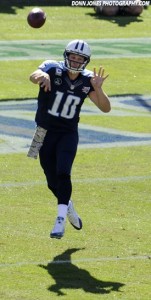 NFL player Jake Locker has a Lisfranc injury, and will need to miss the rest of the season to have it surgically corrected. However, he still has plans to host the Titans and T-Bone fundraiser, and event that he has planned in the support of the philanthropic association he recently founded, the Pass it On foundation.
Locker has been talking to other people who have had Lisfranc injuries and recovered from them, trying to learn everything he can in preparation for the surgery on his foot. "I'm looking forward to getting it fixed and starting the healing process," he said. "I feel confident I'll come back stronger than I was and I'll have no side effects from this injury."
Foot surgery is a direct but taxing solution to many injuries. If you are thinking about getting surgery soon, contact a podiatrist like Dr. Jeff Wachtel of Wachtel Family Foot Care. Dr. Wachtel will take the time to focus on your individual needs and help you work through your injury or condition.
When Is Surgery Necessary?
Foot and ankle surgery is generally reserved for cases in which less invasive, conservative procedures have failed to help with the problem. Some of the cases in which surgery may be necessary are:
– Removing foot deformities like bone spurs and bunions
– Severe arthritis that has caused bone issues
– Reconstruction to attend injuries caused by accidents or malformations
What Types of Surgery Are There?
The type of surgery you receive will be dependent on the nature of the problem you have. Some of the possible surgeries include:
– Bunionectomy for painful bunions
– Surgical fusion for realignment of bones
– Nerve removal for painful nerve endings
Benefits of Surgery
Although surgery is usually a last resort, when it is undertaken, if can provide more complete pain relief than before, and may allow you to finally resume full activity.
Surgical techniques have also become increasingly sophisticated. Such techniques like endoscopic surgery allow for smaller incisions and faster recovery times.
If you have any questions, feel free to contact our office in Lansdale, PA. We offer the latest in diagnostic and treatment technologies for any foot and ankle complications you might have.
Read more about Foot Surgery