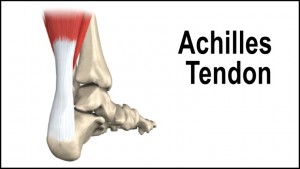 After jogging during a vacation in Florida, Michigan governor Rick Snyder reportedly felt a "pop" in his right foot. Following visits with doctors in both Florida and Michigan, the Republican governor has discovered that his right Achilles tendon is torn. Snyder says jogging is part of his Healthy Michigan, but has told The Detroit News that he "overdid it." According to spokeswoman Sara Wurfel, Snyder describes the pain as "not horrible." The Michigan governor has been mentioned as a potential candidate for the 2016 presidential election. When asked about running, he responded that he's "working on literal running first."
Achilles tendon injuries can be very painful. If you believe you are having problems with this condition, consult with Dr. Jeff Wachtel, D.P.M., of Wachtel Family Foot Care. Dr. Wachtel can treat your foot and ankle needs.
What is the Achilles Tendon?
The Achilles tendon is a tendon that connects the lower leg muscles and calf to the heel of the foot. It is the strongest tendon in the human body, and is essential for making movement possible. Because this tendon is such an integral part of the body, any injuries to it can cause severe difficulties and should immediately be presented to a doctor.
What are the symptoms of an Achilles Tendon Injury?
There are various types of injuries that can affect the Achilles tendon. The two most common are Achilles tendinitis and ruptures of the tendon.
Achilles Tendinitis Symptoms
– Inflammation
– Dull to Severe Pain
– Increased blood flow to the tendon
– Thickening of the tendon
Rupture Symptoms
– Extreme pain and swelling in the foot
– Total immobility
Treatment and Prevention
Achilles tendon injuries are diagnosed by a thorough physical evaluation. Often the doctor will order an MRI to confirm the diagnosis. Treatment will involve rest, physical therapy, and in some cases, surgery. However, various preventative measures can be taken to avoid these injuries.
For more information about Achilles Tendon Injuries, follow the link below.
If you have any questions, please contact our office located in Lansdale, PA. We offer the newest diagnostic and treatment technologies for all your foot ankle injuries.