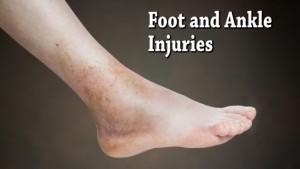 While golf is not typically seen as a rigorous sport, repeatedly swinging a golf club can lead to hallux limitus—the jamming and deteriorating of the big toe joint. Swinging can create an overextension of the big toe joint on the back foot, wearing out the cartilage or jamming the big toe joint.
Golfers who suffer from this condition generally have less mobility in this area than other parts of the foot. Pain in the big toe area should be viewed as a warning sign that intervention is necessary before the joint becomes arthritic.
Full recovery is much more difficult if one continues to play sports with a foot or ankle injury. If you would like assistance with an injury, see Dr. Jeff Wachtel, D.P.M., of Wachtel Family Foot Care. Dr. Wachtel will assess your injury and provide you with a quality treatment plan.
Playing Sports with Foot Injuries
Many types of foot injuries affect athletes over the course of their athletic career. Despite their setbacks, many of these athletes will continue to play with mild foot injuries and attempt to 'push' through the pain. In order to be able to prevent injuries, it is important to stretch before any activity, wear proper footwear and replace shoes as needed. Some of the foot and ankle injuries athletes are at risk for include:
Turf toe- upward bending of the big toe outside normal range of motion
Stress Fractures
Overpronation- excessive foot movement during gait
Plantar Fasciitis- swollen ligament in the foot's base
Strains
For more serious injuries it is recommended to consult with a podiatrist or orthopedic specialist as fractures and other serious conditions may require surgery.
If you have any questions, please contact our office located in Lansdale, PA. We offer the newest diagnostic and treatment technologies for all your foot ankle injuries.