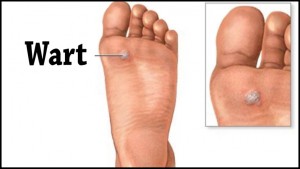 Each year autumn brings with it the start of the new school season and, for many anxious parents, the possibility of their children becoming ill from various bacteria and viruses. Cutaneous warts is one condition that many people do not keep a look out for; plantar warts, or foot warts, on their own affect around 4.5% of the population. Consider these five tips to help reduce the risk of contracting warts: keep the hands and feel clean, cover cuts and scrapes, avoid picking at hangnails, keep existing warts covered, and do not touch or pick at any warts.
If not treated properly, plantar warts can exacerbate and become debilitating. If you would like medical assistance regarding plantar wart treatment, please see podiatrist Dr. Jeff Wachtel, D.P.M., of Wachtel Family Foot Care. Dr. Wachtel will assist you with all of your foot and ankle concerns and provide you with quality treatment.
About Plantar Warts
Plantar warts are found on the feet. These warts are caused by the human papillomavirus (HPV) getting into open wounds on the feet. You can recognize plantar warts by a hard bump on the foot. They are usually found on the heels or balls of the feet. Plantar warts are usually not a sign of anything dangerous but do not ignore them if they do cause pain or embarrassment.
If you do have a plantar wart, you may notice some pain when standing but since these warts are not cancerous or dangerous, a podiatrist only needs to be seen if there is excess pain. Although plantar warts don't often call for treatment, there are options available. They can be frozen off, removed by an electric tool or burned off using laser treatment.
If you have any questions, please contact our office located in Lansdale, PA. We offer the newest diagnostic and treatment technologies for all your foot ankle injuries.