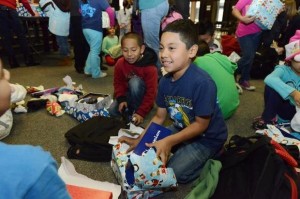 The Alicia Reyes Elementary School in Merced, CA were treated to an early Christmas gift as they were fitted and received new shoes.
"Ah, I got Airwalks," said 10 year old Saul Lizarraga, as he unwrapped a new pair of socks and shoes with a smile. Lizarraga was one of 70 students who received new pairs of shoes from Happy Feet Foundation, a Merced nonprofit group.
"The purpose is to give children confidence so they feel good about themselves," she said, adding that it's important to give children new, rather than used, footwear. Lil Ayala, the schools learning director stated that the staff measured the children's feet before visiting the store.
Making sure your child's feet are healthy is important during the growing stages. Seek the help of a podiatrist like Dr. Jeff Wachtel of Wachtel Family Foot Care. Dr. Wachtel will examine your child's feet and provide the right care and treatment for them.
Keeping Children's Feet Healthy
Having healthy feet in childhood can help prevent medical problems later in life, namely in the back and legs. As children grow, their feet require different types of care from birth to school-age.
Although babies do not walk yet, it is still very important to take care of their feet.
Avoid putting tight shoes or socks on his or her feet
Allow the baby to stretch and kick his or her feet to feel comfortable
As a toddler, kids are now on the move and begin to develop differently. At this age toddlers are getting a feel for walking, so don't be alarmed if your toddler is unsteady or 'walks funny'.  Be sure the child wears comfortable and protective shoes so that they can grow into their feet properly.
As your child gets older, it is important to teach them how to take care of their feet
Show them proper hygiene to prevent infections such as fungus
Be watchful of any pain or injury
Have all injuries checked by a doctor as soon as possible
Comfortable, protective shoes should always be worn, especially at play
For more information on keeping your children's feet healthy, follow the link below.
If you have any questions, feel free to contact our office in Lansdale, PA. We offer the latest in diagnostic and treatment technologies for any foot and ankle complications you might have.
Read more on Keeping Children's Feet Healthy.